Get 40% off your first month by subscribing below (limited time offer!)
How a Life of Puzzles gift card works?
When you click the button 'Select gift card option' below, you'll see a range of options for gift cards to purchase.
You'll also have the option of selecting whether the gift card comes to you or goes directly to the recipient you've bought the gift card for.
The gift card includes a code which the recipient can against a Life of Puzzles subscription.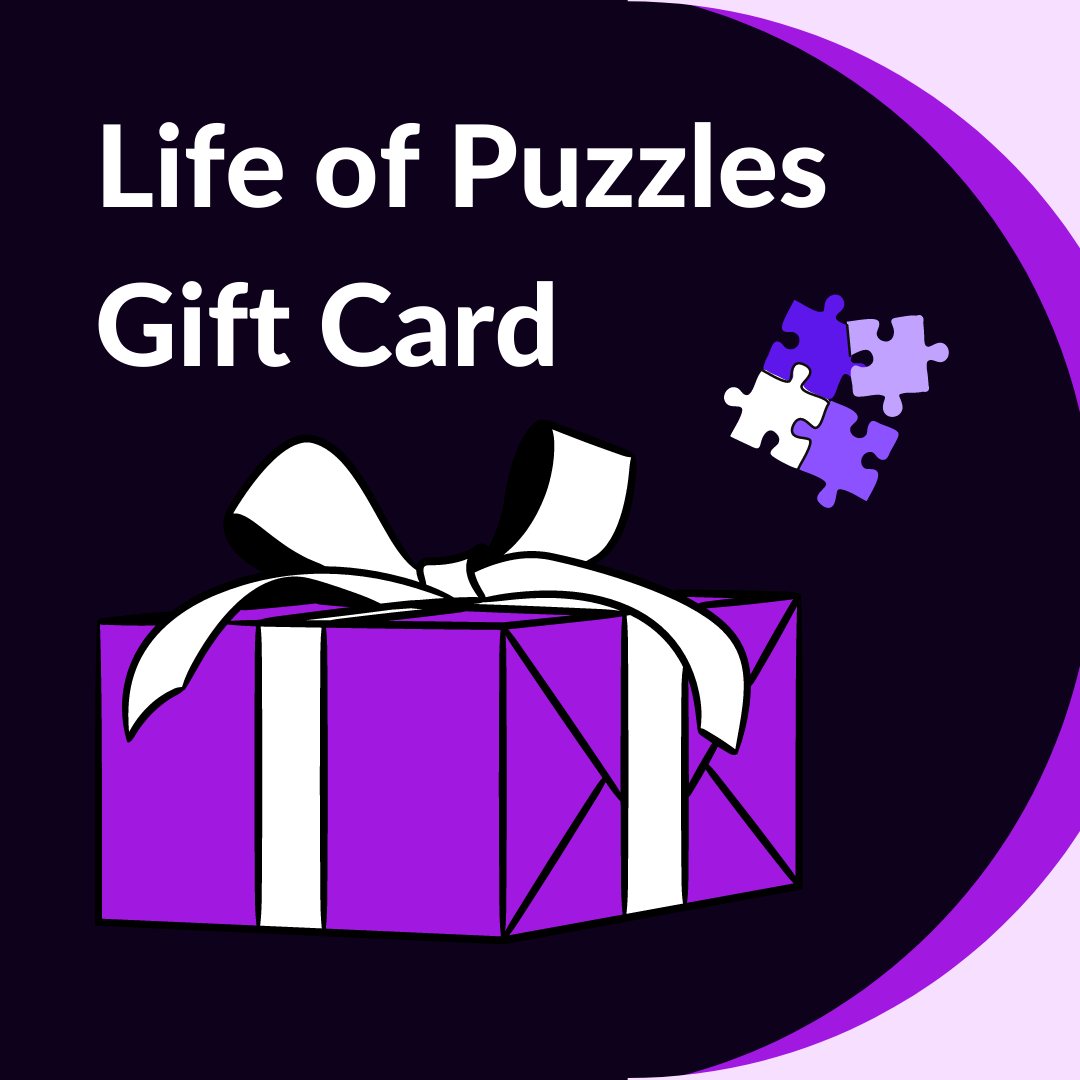 ‍Q: Can I send my gift card to someone?
‍A: Yes, if you select to send "Directly to recipient" when purchasing the gift card, you can put in their information and a message to customise the gifting experience!

‍Q: Why does my recipient need to enter their credit card if my gift card covers the entire purchase?
‍A: We're a subscription! Their credit card is necessary to continue beyond the initial transaction. Additionally, we keep a card on file in case there is an accident and a puzzle is damaged or goes unreturned. If they don't want to continue, they can cancel at any time before their next renewal (no questions asked and no need to talk to anyone!)

‍Q: Can the gift card be used for an existing subscription?
‍A: The gift cards can only be redeemed for new subscriptions at this time.

‍Q: Where can my gift recipient redeem this gift card?
‍A: The recipient will need to enter the code on the gift card at checkout. They can do this by clicking on 'Get Started' on the home page. They will first select their subscription preferences, which includes difficulty level, theme preferences and their subscription option. After this, at checkout, they will need to put in the gift card code in the 'Enter Discount Code' field.  The gift card value will cover the cost of the subscription until the amount on the gift card runs out (e.g. a £50 gift card would cover 2 months of a subscription option that costs £25 per month).
‍Q: How long is the gift card valid for?
‍A: Gift cards can be redeemed up to 12 months after purchase.
‍Q: I have more questions, where can I find answers?
‍A: You can reach out to our customer support at hello@lifeofpuzzles.co.uk.